Welcome to Wonted Wiki!
Welcome to Wonted Wiki where anyone can edit!
We are currently looking for people to help with this wiki!
---
There are three different types of people in this world:
Those that are born ordinary,
Those that were born ordinary but can change,
And those who are born with special powers...
---
The first arc is about the past of the two main characters.
The second arc - Wonted Cacophony- is the official 'Wonted' set six years later.
---
We have currently edited 764 on over 25 articles since August 2014.

New pages | New files | Active users | Categories | Wiki tutorial | Help pages
Main Characters
Supporting Characters
Daum

Black Behemoth   •  Jack, the American Ghost   •  Red Storm   •  Trace   •  Trinity Wonder   •  Twelfth Night (2nd Wiki)   •  Wake Up Deadman

Foxtoon

Lezhin

Appetite   •  The Devil's Boy   •  Minverse series   •  Tale of Eun Aran   •  Skill of Lure   •  White Epic

Naver

Ability   •  Abide in the Wind   •  Americano Exodus   •  Aura from Another Planet Wiki   •  Bastard   •  Blade of the Phantom Master   •  City of Dead Sorcerer   •  Crepuscule   •  Dear, Only You Don't Know   •  Denma   •  DICE (2nd Wiki)   •  Divine Bells   •  Dr. Frost (2nd Wiki)   •   The Flow   •  The Gamer (2nd Wiki)   • Gepetto   •  Girls of the Wild's   •  The God of High School   •  Gosu (The Master)   •  Hardcore Leveling Warrior (Lucid Adventure)   •  I Don't Want This Kind of Hero   •  Knight Run   •  Kubera   •  Lessa   •  Lookism   •  Magician   •  Mima of the Forest   •  Nano List   •  Noblesse   •  Nowhere Boy   •  Orange Marmalade   •  Refund High School   •  The Most Beautiful Moment in Life, part 0 (Save Me)   •  SHADOW   •  Spirit Fingers   •  Sidekicks   •  Soul Cartel   •  Supernatural Investigation Department   •  TAL   •  A Thousand Years Ninetails   •  Tower of God   •  Transfer Student Storm Bringer   •  Trump   •  UnderPRIN   •  unTOUCHable   •  Winter Woods   •  Wonted

---
Latest News
Chapter 78 is now out online to read!
Random Chapter Page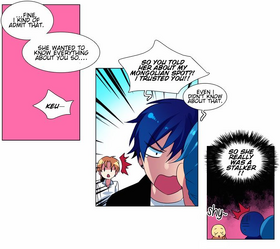 Featured Character
Kei Joon was previously a delinquent student. He is currently an employee and an infamous hero.
Wiki Polls
Who do you think is more handsome?